Organisasjonskart 1863
Table of organization 1863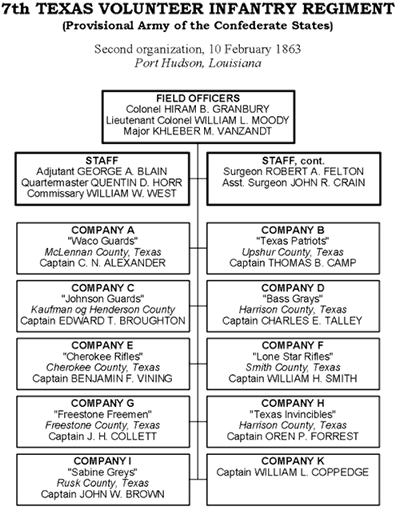 Company F was disbanded following the Battle of Raymond, May 12, 1863.
The remaining enlisted men were assigned to Company A.
Company K consisted of men from several counties.


REORGANIZATION 1862 - 1863
Nearly the entire 7th Texas Infantry Regiment was captured by the enemy when Fort Donelson, Tennessee, surrendered on 16 February 1862. After seven months in confinement at Camp Douglas, Illinois, the men were finally exchanged at Vicksburg, Mississippi, on or about September 20, 1862.
John Gregg was promoted Brigadier General, and Hiram B. Granbury, newly appointed colonel of the 7th Texas, was tasked with reforming and refitting the regiment. But there were too few men left of those who had volunteered in 1861. As a result, a number of officers were sent back to Texas in October 1862 to gather new recruits.
The Texas soldiers remaining in Mississippi were temporarily organized into two companies on October 8, 1862. These companies served as Co. A and B of the consolidated 49th/ 55th Tennessee Infantry, also known as Col. J. E. Bailey's Consolidated Regiment, in central Mississippi. In early January 1863, Bailey's regiment was ordered to Port Hudson, Louisiana. The Texans helped man the Port Hudson defenses during the next four months.
In the meantime the recruiting parties returned, and the 7th Texas Infantry Regiment was finally reconstituted at Port Hudson on February 10, 1863. This time, a tenth company (K) was also formed, as per army regulations. Assigned to Brigadier General John Gregg's brigade, the 7th Texas was ordered back to central Mississippi on May 1.
FINAL REORGANIZATION 1865
The spring of 1865 found the 7th Texas Infantry in General Joseph E. Jonhston's army in North Carolina. Johnston's regiments were badly undermanned after almost four years of war. On April 9, 1865, Johnston ordered a reorganization of all his forces, in a last - but hopeless - attempt at increasing the combat efficiency of the army. As a result, all 8 Texas regiments in the brigade formerly commanded by General Granbury, were combined and designated the 1st Texas Consolidated Infantry Regiment. The old 7th Texas made up Company B and C, numbering approximately 70 men in all. Lieutenant Colonel William A. Ryan commanded the new regiment, which ceased to exist less than three weeks later, when General Johnston surrendered.